Getting Started Guide
Setup
(1) Allow microphone permissions when asked,

Or click on the video camera icon in the address bar if not asked.
(2) Select dictation language from the select box above. To switch language, you can come back to this page.
(3) IMPORTANT First time only: restart Chrome.
Start / Stop Voice Recognition
Place the cursor in a text-field you want to type in. Voice In adds 2 buttons to your Chrome.
(1) Microphone button right to the Chrome's address bar.
(2) In any text-field, right-click on the mouse, and then, in the drop-down menu: "Start / Stop Recording"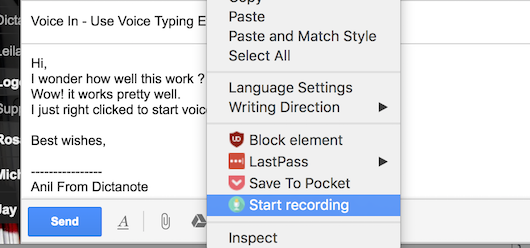 Click on one of the 2 buttons introduced above to start dictation
You can also use a keyboard shortcut to start/stop voice recognition. The default keyboard shortcut is CTRL+SHIFT+9 on Windows/Chromebook and CMD+SHIFT+9 on Mac. You can change this shortcut by going to url chrome://extensions/shortcuts
When you start dictating, the microphone button in the address bar will turn red.
That's all. No more typing! As simple as that.
Sites tested to work:

Gmail (mail.google.com)
Outlook (outlook.com)
Zoho Mail (mail.zoho.com)
Zendesk (zendesk.com)
Google Search (google.com)
Hacker News (news.ycombinator.com)
Most sites with simple textbox / input box
Some sites where it doesn't work: Facebook post / message, Whatsapp message, Google Docs (you can use the in-built voice typing in Google Docs). The reason it does not work on these is because of custom text handling which makes it hard to insert text into these text boxes.
If you have a specific site that you want to Voice In to work on, contact us at support@dictanote.co. Make sure to add Voice In in the email title.
Spread the word:
Help us spread the word about Voice In by letting your friends know about this amazing extension
Tweet
Share on Facebook
Send Email