Anil here from Voice In, the #1 speech-to-text extension. We have a number of updates we're excited to share with you. 
Generative AI
Stop wasting time writing your prompts. Voice In now supports dictation on ChatGPT, Google Bard, Bing Chat, and Poe. Recently, ChatGPT became the #1 most used site for Voice In, overtaking long-time #1/#2 Gmail and Google Docs.
Six New Voice Commands
We have added six new types of voice commands (shown below). You can now use voice commands to perform actions like changing the dictation language, pressing a keyboard shortcut, opening a webpage, closing the current tab, etc.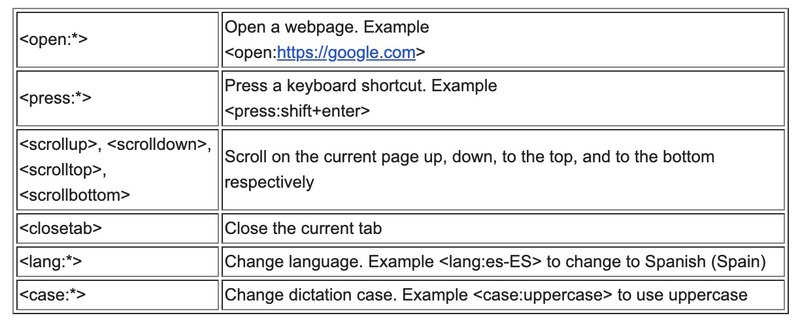 You can use these action commands to simplify your workflow. For example, in Gmail, the shortcut to send the email is ctrl + enter (cmd + enter on Mac). You can trigger this action using your voice by adding a voice command "send mail" => (or on Mac).

For more details and example usage, check the Custom Voice Commands guide. 
We have already added default voice commands for some of the commands above. For example, saying "close tab" will close the current tab. See the updated list of default voice commands here. 
Other Improvements
Sound effect: Voice In now plays a little sound when dictation starts and stops. You can configure whether you want to sound to play on the options page (in the sound effects section). 
Improved Japanese language support: Fixed a bug that caused a space to get inserted between sentences and refreshed the voice commands.
IFrame support: Now support dictation in iframes. For example, you can dictate in the Google Calendar widget inside Gmail.
Finally, what features should we build next? If there's a Voice In feature you'd love to see, there's never been a better time to tell me about it.
What should we build into Voice In?
What would make your life better?
What would make your job easier?
What would make you tell all your friends about Voice In?

Happy Voice Typing :-)
This article was written by Anil Shanbhag, Voice In's founder. Voice In lets you use your voice to type on 1000s on websites, including Gmail, ChatGPT, Google Docs, Notion, etc.