Are you looking for a way to use speech-to-text/voice typing to write articles on WordPress? If so, you should try using Voice In Speech-To-Text Chrome Extension in WordPress. Voice In is a popular browser extension that lets you use your voice to type in WordPress and 1000s of other websites.
It is the perfect tool for professional writers. It helps writers write their articles 3x faster and also helps avoid computer-related Repetitive Strain Injuries.
In this post, we will show you how to install the Voice In Google Chrome extension and how it works in WordPress.
What is WordPress?
WordPress is a popular tool to create and manage your website without programming skills. It is an open-source content management system that enables you to develop your websites. You can use WordPress to create blogs, resumes, portfolios, forums, business websites, e-commerce stores, and many more things.
Fun Fact: WordPress powers 40% of all the websites on the internet!!
What is Voice In?
Voice In is the most accurate and easy-to-use speech-to-text extension on the Chrome Webstore. Voice In lets you use the power of speech-to-text to perform tasks like writing blogs, responding to emails, and completing assignments. The Voice In Chrome extension builds on the browser's speech recognition engine to create an effective voice typing tool. The extension is currently available on two browsers - Google Chrome and Microsoft Edge.
Voice In lets you move from voice typing (dictation) to key typing seamlessly. This way, you can dictate when convenient and type when more appropriate. You can also dictate and edit your text results right away, and continue dictating. No need to go through app modes or even stop dictation.
Why you should use Voice In on WordPress:
One of the common issues faced by writers is Computer Related Repetitive Strain Injuries (RSI). Staying away from the computer would be the most obvious solution, however, in this day and age, it is impossible to stay away from your computer. The use of Voice In will enable you to sit back and relax while dictating, or even better, take a stretch while dictating to give those hands a much-needed break.
On the technical side, there are two major advantages of using Voice In as compared to other speech-to-text plugins for WordPress.
First, the available speech-to-text plugins for WordPress required adding a plugin to the blog itself increasing the website load time. However, the use of Voice In Chrome extension enables you to use it across multiple blogs without the pain of adding it to every single blog. The same voice In extension can also be used on other websites. To put it simply, once Voice In chrome extension is installed, you can use it on WordPress to write a blog, and then you can also use it to tweet on Twitter.
The second major advantage, Voice In contains built-in modifications to make it work seamlessly on WordPress. This way you will not face any technical issues with using it on WordPress.
There are many more advantages of using Voice In on WordPress:
Custom Commands: Voice In has inbuilt commands for common punctuations like period (.), and exclamation mark (!). In addition, Voice In allows you to create your custom commands by inserting a predefined text with a phrase of your choice.
Dictate in Multiple Languages: You can dictate in more than 2500 languages using Voice In and it also enables you to switch between languages seamlessly.
Privacy: Voice In is designed to respect your privacy. All the audio is transcribed within your browser and no audio is sent to the Voice In server.
Affordable: There is other speech-to-text software available like Dragon Dictation. However, compared to Dragon Dictation, Voice In is very affordable. Voice In comes in free and premium versions. The free version has all the features that are required to dictate WordPress. The premium version unlocks advanced features which can improve your productivity.
How to Install Voice In on Google Chrome
While Voice In can be installed on Microsoft Edge and Google Chrome, this article will provide the installation instructions for Google Chrome:
Go to the Voice In Voice Typing extension on the Chrome Web Store and click on the "Add to Chrome" option.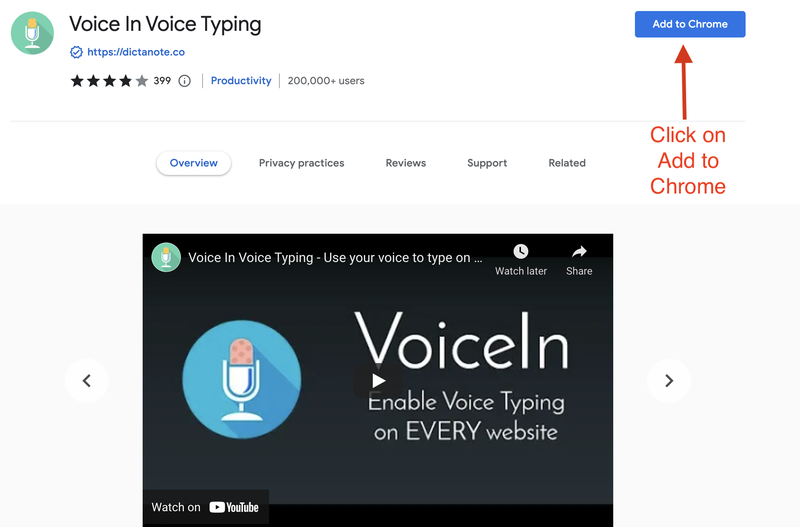 A pop-up notification will appear indicating what the extension can do. Click on add extension to add Voice In Voice Typing to chrome.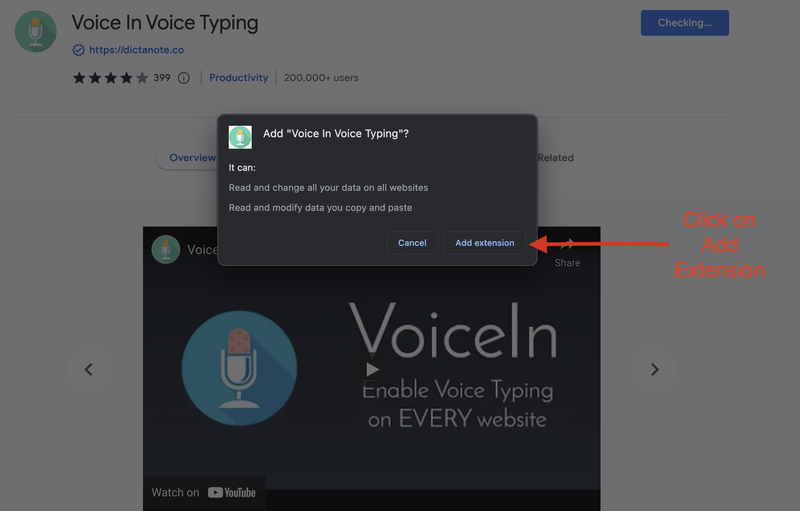 Voice In Set Up page will open in a new tab. You can follow the setup instructions to choose your language and grant microphone access.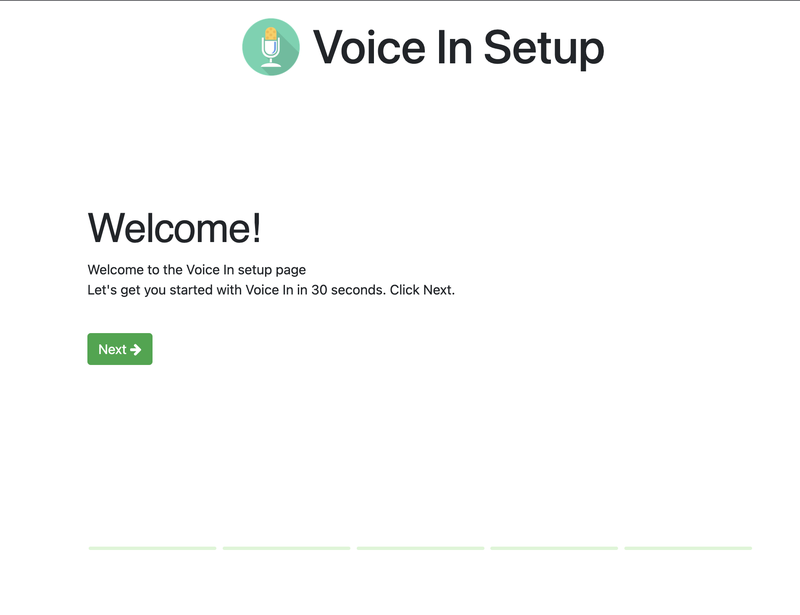 How to use Voice In on WordPress?
Voice In works both in the original HTML editor and the new glorious Gutenberg editor. Go to a WordPress new post editor, place your cursor in the post body, click on the Voice In microphone icon at the top right and you can start dictating. You can tell if Voice In is active or not by checking the color of the microphone at the top right corner of your browser. If the microphone is red then it is ready for dictation.
Voice In is not perfect.
The accuracy of Voice In is extremely good as it is built using Google's speech-to-text capability. Despite that, it is possible to get a few words wrong during dictation. Voice In also cannot recognize specialized words, say uncommon medical terminology or regional language words. You can use the custom command feature to teach voice In these words.
The time taken to dictate along with the time taken to go back and edit the errors is less than the time taken to type the entire blog.
In final words, if you want to boost your productivity while relaxing then Voice In chrome extension is a must for your next blog post on WordPress.
If you have any queries about Voice In, reach out to us at support@dictanote.co

===
Looking for help with your WordPress site/need custom integrations? Hire a WordPress developer to help you with it from Toptal. 
This article was written by Anil Shanbhag, Voice In's founder. Voice In lets you use your voice to type on 1000s on websites, including Gmail, ChatGPT, Google Docs, Notion, etc.